Reclaim your ______. Body. Fitness. Strength. Freedom. Love of life.
We genuinely want you to enjoy every minute.
Our classes provide the variety you need to stay motivated, from total body workouts, kickboxing, and high-intensity Tabata to yoga, Pilates, and indoor cycling. Beginners, take heart, we're here to help you feel at ease, no matter your skill level. The atmosphere is so inviting, you may be surprised how quickly you advance. So don't be shy. Try something you've always been tempted to do.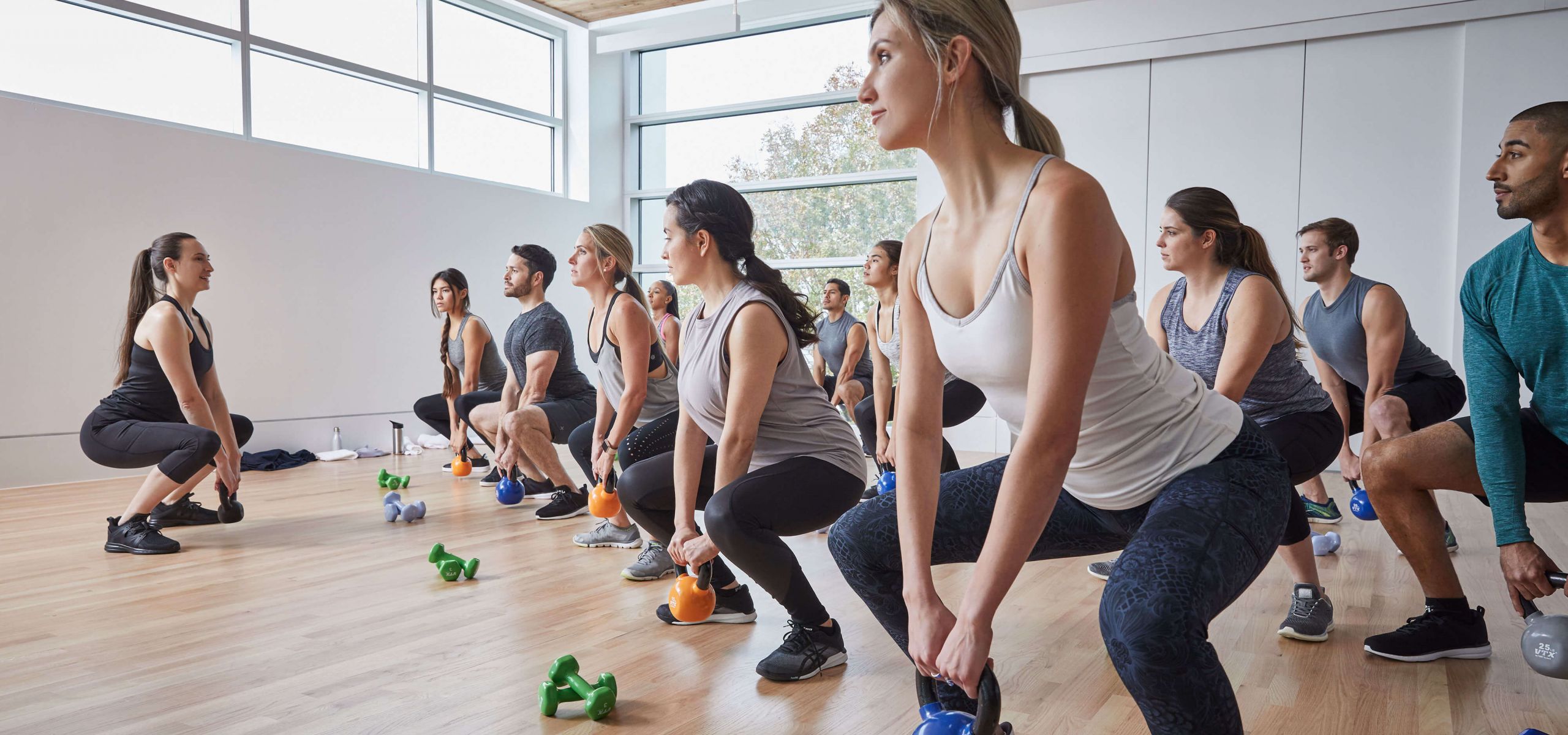 Classes
*Schedule goes live every Sunday at 2PM for the following week of classes allowing you to reserve your spot up to two weeks in advance.
Pilates
Develop an evenly conditioned body, gently and gracefully.
Intro to Reformer
A 1 hour introductory reformer class offered at various times and days during the month for those new to reformer. In this class you will learn howto use the reformer and experience a taste of some of the exercises. You will meet one of our amazing instructors who will help you become more comfortable with the reformer and help you determine which style of class is right for you. These special classes are reserved only through the front desk so stop by or call to book your spot in the next available class.
Reformer Foundations
Beginner to intermediate level group reformer class for those that are new to Pilates or reformers and wish to lengthen and strengthen total body. This class will challenge you to improve your core strength, total body stabilization and flexibility.
Reformer Sculpt
Intermediate to advanced, Power hour is an invigorating fusion of classic Pilates movements, fat burning cardio exercises, as well as full body strength building. The key principles of Pilates core training added to the modern movements make this workout powerful. It is a full body conditioning program that will lengthen and strengthen your muscles. Power hour will work you from head to toe.
Reformer Fluidity
Experience a contemporary, faster paced total body workout that will leave you feeling stronger, more flexible, and standing with improved body alignment. In this class you will build muscle endurance and improve flexibility. The exercise becomes more challenging by adding in additional movements to continue to challenge the body as we work on transitions and fluidity.
Group Exercise
Small group classes keep workouts fresh, effective, and more enjoyable.
ATC (Athletic Training and Conditioning)
Train with the intensity of an athlete using battle ropes, kettlebells, free weights, and drills in combination with dynamic functional exercises to improve your athletic performance.
B.R.I.C. (Battle Ropes, Intervals, Core)
A station based class that will work every muscle in your body. A 30 minute fast paced and fun class with a focus on the use of Battle Ropes and core work with a few other exercises in between.
Cardio Ballet Tone
A unique, high energy, low impact exercise class that combines ballet work and light weights with continual fat burning motion. Central to the workout are toning and resistance exercises for butt, legs, torso, and arms to sculpt muscles and elongate the appearance of the body.
Cardio Core
This class starts with HIIT style cardio conditioning and ends with 15 minutes of core focused exercises. It is a great class to improve overall fitness and build a strong foundation for all movement.
Core Strength
A 30 minute core class that strengthens all the muscles of the core for amazing abs and a strong foundation for all athletic performance.
Fit Games
This class is for everyone! Each week is a different fitness game that challenges your mind, body and competitive spirit. It's fun with fitness.
Functional Strength
A class incorporating the use of gliders, resistance bands, core strength, med balls, and kettlebells that focuses on building a strong foundation in the core and glutes to help with athletic performance, everyday movements, and mobilization.
HIIT and Flex
HIIT meshed with a little power yoga and restorative work for the best of all worlds. Combine strength, cardio, and flexibility for a fun, effective, and efficient 45 minute practice. Be ready to work!
HIIT n Hills
Part treadmill workout, part resistance training, one amazing total body workout. Join one of our amazing instructors for a fun and well paced small group workout on the gym floor that will have you sweating and well on your way to your fitness goals!
LIFT
This class focuses on using lower weights at higher repetitions and volume to tighten and tone the body. By burning out the muscles you will increase your overall muscle endurance. Get ready to feel the fire!
MetCon
Metabolic conditioning workout with structured patterns of exercises that increase your aerobic fitness while maximizing total calories burned during and AFTER exercise. This class will break through your plateaus.
Nothing but BUTT
A fun but challenging combination of specifically selected exercises to tighten and tone your booty.
Pure Cardio/Tabata
30 minute body weight inspired movement in a tabata style series. Expect to move fast and get your heart rate up!
Restore
A 15 minute foam rolling, lacrosse ball, and stretching mobility class. Think of this as your reward for a hard workout!
Triple Threat - Balls, Bells, and Bosu
Functional strength meets pure cardio. This 45 minute class combines strength moves using kettlebells, slam balls, bosus, and more with short bursts of cardio throughout for one amazing total body workout.
Upper Body Shred
Tone and Sculpt your upper body in this quick and effective upper body workout.
Yoga
Discover the way to a strong, flexible body and a peaceful mind.
Sunrise and Sunset Yoga
Join us as we celebrate the rising and setting of the sun each day with an alternating Hatha and Vinyasa session. When our Sunrise Yoga is Hatha, our Sunset Yoga is Vinyasa, and vice versa.
Fundamentals
This class is beginner friendly, so it is perfect for those who are new to yoga or interested in refreshing their practice. We will focus on proper alignment ad breath.
Restorative
A recovery based class, great for sore muscles. A meditative and relaxing yoga practice that helps build mobility and flexibility. This class focuses on using breath to activate healing and create connection between mind and body.
Vinyasa Flow
Classes are paced one breath per movement. They are designed to help you develop strength, flexibility and balance. Vinyasa flow gives you the opportunity to spark creativity on the mat.
Power Yoga
Suitable for all levels, this 45 min practice will mindfully build strength, flexibility, and agility. You'll leave feeling empowered and rejuvenated.
Yoga Sculpt
The best of both worlds! This dynamic blend of yoga and lightweight lifting will lengthen, strengthen, and tone your entire body. Suitable for all levels!
Vin Yin
The traditional practice of vinyasa yoga but with the restorative postures of yin yoga added in. This class will lead to an increased amount of mobility throughout the entire body as well as a calming and balancing effect on the mind and body through the combination of effort and ease.
Advanced Yoga
The most challenging of our yoga classes and designed for advanced practitioners. These classes incorporate advanced pose variations and contain inversions and arm balances.
Cycling
More enjoyable and effective than riding the city streets, and no helmets required.
Rhythm Ride
A 45 minute indoor studio style cycling experience, think party meets workout. Ride with the rhythm of the music with heart pumping playlists and inspirational instructors.
Performance Ride
HIIT training meets incredible music. A 45 minute indoor cycling ride with defined resistance, cadence rages, and driving music. Each ride will consist of climbs, drills, and intervals for one amazing workout.